CORONAVIRUS (COVID-19) Update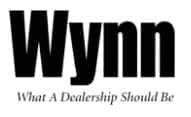 Since 1963 the Wynn family has thought of our employees and customers as family and friends. Everyone is meant to feel safe and comfortable when visiting our stores.
As a result of the Coronavirus 2019 we have redefined what comfortable means to us. We have taken extra steps to provide a clean and safe environment. Vehicles are disinfected once their service is completed, entrances and work surfaces are disinfected during the day and the facility is disinfected and cleaned nightly. Our employees are practicing proper hygiene according to CDC guidelines and have been asked to stay at home if not feeling well.
We are here to serve and work with you at your convenience. If you are not feeling well, we ask that you please stay home. We're available to talk on the phone, email or chat through our websites. Also, we can pick up and deliver your vehicle for service.
We will continue to monitor this evolving situation and are here to serve you and your family's car needs. Thank you for being a part of our family.
Stay safe and be well.
Wynn Volkswagen
610-708-1433
jimwynnvolkswagen.com